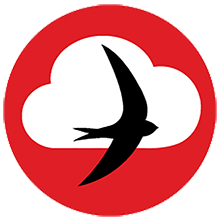 Cloud technology has progressed greatly the past view years and with the progression of Internet infrastructure and security services is a far more relevant and accepted option. Cloud services vary depending on the requirements and budgets of each business. Solutions can range from a cloud based backup system right through to a complete cloud IT infrastructure including emails, files and applications. Here at Swift we will tailor the cloud to you and really make your business soar.
Cloud services to lift your business
We will analyse your IT System and requirements, work with you and generate cloud services that will suit your needs and budget. Most of our clients already are enjoying our cloud backup which over the past few years has proved to be saviour when a data restore request is made.
Many of our clients with a large mobile workforce or multiple sites have capitalised on the technologies by having a private cloud. Their mobile and remote users log in to the head office infrastructure and from any Internet connection in the world have access to their systems and files as if they were seated at the office. This cuts down on unnecessary hardware and support costs.
How Swift can lift your business up to the cloud
Swift Digital has over the years entered into long lasting partnerships with cloud services suppliers directly. This means that there are no distributors and resellers in the middle keeping the costs low. In addition we have our own secure infrastructure that we partition for client usage depending on the requirements. We also have our Swift Cloud Web server that boasts a 800mbps connection solely dedicated to our website hosting services.
Whatever your requirement we are here to help, whether you already have an infrastructure that you wish to turn in to a full or partial cloud, or whether you wish to host your backup, Spam filtering or applications in the cloud, we can design, build and host the right solution for your business.
Please see below for a list of some of the cloud services that we can offer: